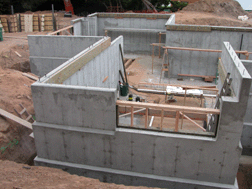 Simple to complex, it just works!
Dependable!
Proven


This forming system design and components have been used successfully over a 40 year history, on tens-of-thousands of job sites, all around the country. The hardware has been in use "East of the Mississippi" for years and has been combined with specially engineered plywood from the Pacific Northwest.
Pacific Foundation Systems has adapted this "evolutionary" forming system to the mountainous West Coast Region.